About Jomax® Cleaner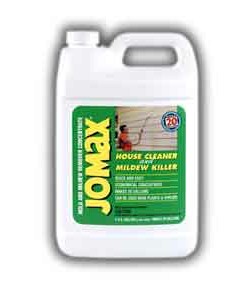 JOMAX
House Cleaner and Mildew Killer Concentrate
Kills Mildew on Contact
Detergent Cleaning System Removes Dirt and Stains Without Scrubbing
Economical - Saves up to 80% of the cost of premix cleaners
Will not damage painted surfaces, aluminum or glass
Can be used near plants or shrubs
JOMAX is easy: Mix with bleach and water, spray on, rinse off. No scrubbing or power wash equipment needed!
JOMAX is economical: One gallon of JOMAX makes twenty gallons of solution - a fraction of the cost of pre-mix cleaners.
JOMAX is effective: The patented JOMAX formula kills mold and mildew on contact, while removing dirt and stains, yet will not damage glass, aluminum or painted surfaces.
Use JOMAX for routine cleaning or for prepainted mildew control. Kills mildew on exterior non-porous surfaces such as: aluminum and vinyl siding and stucco; painted wood, doors and trim; painted brick, concrete or cement block; stained or painted decks and fences; and patio furniture.
JOMAX is an EPA registered mildewcide concentrate. It's unique ChlorRelease bleach activator magnifies the strength of chlorine bleach but at low concentration levels so it will not damage painted surfaces and can be used near plants and shrubs. The detergent cleaning system in JOMAX loosens dirt and stains, eliminating the need for scrubbing. To clean mildew-infected surfaces, liberally apply properly mixed JOMAX solution... When used as directed JOMAX will not damage painted surfaces, aluminum or glass and can be used near plants and shrubs.
(JOMAX is not recommended for interior use)
 
---
---